Podcast Subscribe: Apple Podcasts | RSS | More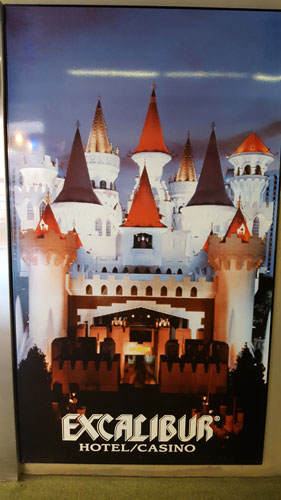 Last week my husband and I dropped off family at McCarran airport and on the way back to the parking deck, I stopped cold in my tracks in unbelief and disappointment for Las Vegas marketing when I saw this blurry, pixelated attempt at advertising:
Most locals walk past these advertisements daily without a second thought. And that's a problem. Poor, outdated presence has become part of Las Vegas cheese. But as owner of a digital marketing agency, my heart is for design, presence and first impressions. And when I saw a multi-million dollar Strip hotel casino with a faded, blurry and flat out ugly wall banner that looked like it had been there since the airport was constructed, it confirmed for me that Las Vegas has an online culture problem. We have come to love this community, its people and the organizations that make it up, so we hate to see beautiful places like this present themselves as less than.
So let me tell you a bit about why this strikes a chord with me: I grew up an hour south of Cleveland, OH with a work ethic and a strive for excellence and quality. Many parts of northeast Ohio are rural and I suppose the culture carries its farmer roots when it comes to work principles. It's not unusual to see people who still live in their 1800's well-kept family home. Buildings don't fall apart after 10 years, jobs aren't finished until the customer is happy, and business websites are modern and up to date. Companies understand the importance of quality representation online.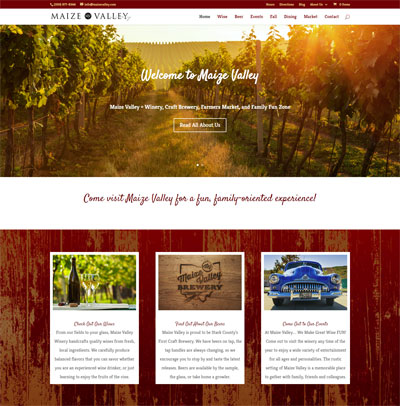 Let me give you an example from a small winery in Hartville, OH called Maize Valley. This is a tiny local winery off State Route 619 that you finally arrive at once you pass fields upon fields of corn (hence the name). They're not famous, and their wine isn't the best you've ever tasted, but you would never know that by their presence online. Maize Valley sits on beautiful land and they know it. So what do they naturally show off on their website? The very thing that makes them great! (And in a modern, high quality way might I add).
Las Vegas is a much younger culture than those closer to the East coast and it has settled and become comfortable with an outdated online presence. The 1990's still dominate this region's graphics, usability, look and feel. It's embarrassing. I could ruthlessly list outdated website after website, posts, banners, and endless advertisements I've encountered since relocating that I would be too ashamed to put my name on and label "finished work." We're talking serious, established, legitimate companies that anyone would be (unpleasantly) surprised to land upon. It just doesn't match up. There is no consistent experience. But there will be no name and shaming.
Instead, we're looking to shape the culture in Las Vegas and bring a modern, high quality standard through our agency. Las Vegas is a leader in tourism, entertainment and attractions and every business here should reflect that on every front. Las Vegas should lead online.
Here is a prime example of what that looks like: Below is the old, "before" screen shot of Nevada NASA Programs, a division of Nevada System of Higher Education at UNLV. It was a typical, unimpressive, outdated website.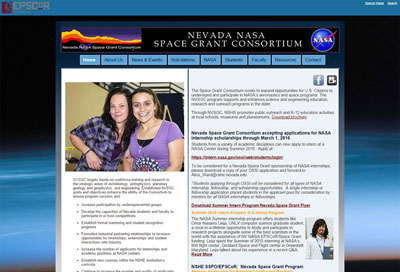 Every state offers NASA Programs, but we wanted Nevada to be the leader and the best so that when other states check them out, they're absolutely floored. And so we did. This is the new face of Nevada NASA Programs and you can believe other state programs are talking. I highly encourage you to check out their live site as it's even better than the screen shot (spoiler: the 3D effects are awesome!)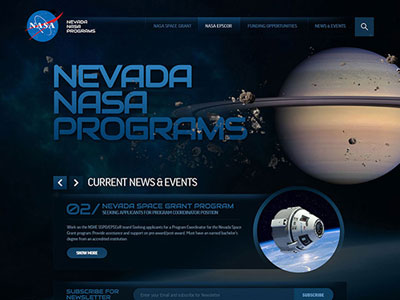 The technology exists. We know how to use it and wield it for good. Your company website should be your hardest working, best looking employee on staff. We're here to introduce Nevada to twenty-first century modern web design.