Podcast Subscribe: Apple Podcasts | RSS | More
Vegas Website Designs was founded on many "Why's." Why start the business? Why give 10% away? Why should someone choose to partner alongside us? Our very first "why" came through an inspirational film titled, "Isaiah 58," pulled directly from Scripture where God corrects His people in their way of living. He tells them: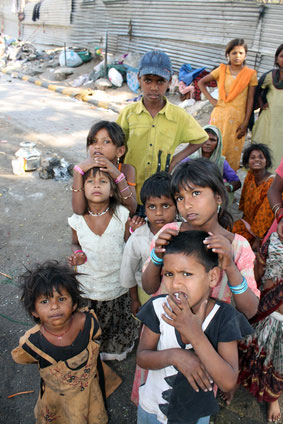 "Is not this the kind of fasting I have chosen: to loose the chains of injustice and untie the cords of the yoke, to set the oppressed free and break every yoke?
Is it not to share your food with the hungry and to provide the poor wanderer with shelter— when you see the naked, to clothe them, and not to turn away from your own flesh and blood?
Then your light will break forth like the dawn, and your healing will quickly appear; then your righteousness will go before you, and the glory of the Lord will be your rear guard.
Then you will call, and the Lord will answer; you will cry for help, and he will say: Here am I. If you do away with the yoke of oppression, with the pointing finger and malicious talk.
And if you spend yourselves in behalf of the hungry and satisfy the needs of the oppressed, then your light will rise in the darkness, and your night will become like the noonday." — Isaiah 58:6-10
After watching this film based on God's word, and seeing the truly desolate living conditions of extreme poverty and human trafficking, my husband and I decided our faith alone was not enough; we had to act. From that point, God put a strong desire in our hearts to be an aid to the oppressed.
A few short days later we were led to sponsor Sunil, a 9 year old boy from Eastern India, living about 600 km north of Kolkatta, where his family was making the equivalent of $27.00 US dollars per month. Months later, we also began sponsoring Hayatu – a 6 year old boy from Addis Ababa, Ethiopia, living in a home with dirt floors. Hayatu's family earned only $22.00 US dollars each month, making it difficult for him to attend school.
Because of our decision to sponsor these children through Compassion International, they now attend school regularly and earn an education that will end the cycle of poverty. They are also receiving medical care, meals and learning about Christ.
So God moved us from the Midwest here to Las Vegas, one of the top 3 cities in the United States for human trafficking. This is just the beginning. It is our heart's desire to release thousands of children and families from poverty and human trafficking through Vegas Website Designs. God has blessed my husband and me with talents and abilities that we have been called to use for His kingdom and glory. Boys like these are the reason we give 10% away. Your decision to work with us helps boost that percentage until we can humbly give 50%.
"Then the King will say to those on His right, 'Come, you who are blessed of My Father, inherit the kingdom prepared for you from the foundation of the world. For I was hungry, and you gave Me something to eat; I was thirsty, and you gave Me something to drink; I was a stranger, and you invited Me in; naked, and you clothed Me; I was sick, and you visited Me; I was in prison, and you came to Me.'
Then the righteous will answer Him, 'Lord, when did we see You hungry, and feed You, or thirsty, and give You something to drink? 'And when did we see You a stranger, and invite You in, or naked, and clothe You? When did we see You sick, or in prison, and come to You?'
The King will answer and say to them, 'I tell you the truth, whatever you did for one of the least of these brothers of mine, you did for Me.'" — Matthew 25:34-40